Annapurna Base Camp (ABC) trek is a famous trekking destination in Nepal, giving breathtaking views of the Annapurna Himalaya, a diversified landscape of forests, towns, rivers, and hot springs, and a rich cultural experience with the Gurung people. But how do you get to this incredible location? In this article, I will discuss the several routes to Annapurna Base Camp, the benefits and drawbacks of each, and some advice to make your journey more pleasurable and safe.
Recommended Read: Best Time To Visit Annapurna Base Camp
Option 1: Trekking from Pokhara
The most common and budget-friendly way to reach Annapurna Base Camp is by trekking from Pokhara, the gateway to the Annapurna region. Pokhara is a beautiful lakeside city that offers many attractions and activities for travelers, such as boating, paragliding, bungee jumping, and visiting temples and museums. You can easily get to Pokhara from Kathmandu by bus, flight, or private car.
From Pokhara, you have several options to start your trek to ABC. The most direct route goes through Australian Camp, Ghandruk, Chomrong, Himalaya Hotel, and Machapuchare Base Camp. This route takes about 7 days to complete, depending on your pace and acclimatization. You can also extend your trek by combining it with other routes in the Annapurna region, such as Poon Hill, Mardi Himal, or Annapurna Circuit.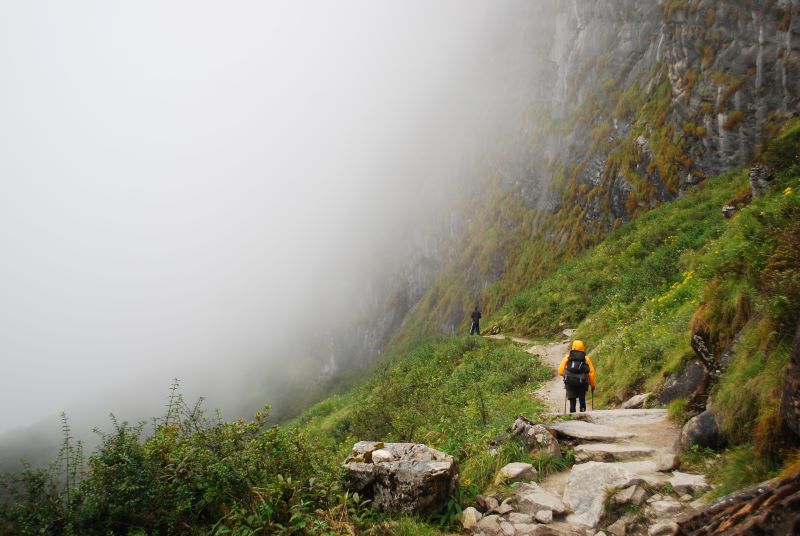 Recommended Read: Top 10 Places to Visit in Annapurna Base Camp
The main advantages of trekking from Pokhara are:
Along the route, you can take in the scenic splendor and cultural richness of the Annapurna region.
There are numerous trekking itineraries to suit your preferences and skills.
You can stay in cozy guest houses (also known as tea houses) that offer basic amenities including beds, blankets, toilets, baths, and food.
You may help the local economy while also interacting with the lovely inhabitants.
The following are the primary disadvantages of trekking from Pokhara:
Two permissions are required: the TIMS card (NPR 2000/US$17) and the Annapurna Sanctuary Permit (NPR 3000/US$25).
You must bring your own backpack or hire a porter or guide to assist you with your gear.
You must be physically and psychologically fit to face the obstacles.
You must be cautious of the dangers of altitude sickness, changing weather, landslides, and animal assaults.
Option 2: Helicopter Flight from Kathmandu or Pokhara
If you are short on time or prefer not to trek, you can take a helicopter journey to Annapurna Base Camp. This is a pricey yet exciting way to get to ABC in a matter of hours. By chartering a helicopter, you may fly directly from Kathmandu or Pokhara to ABC. The helicopter will take you over the spectacular Himalayan terrain before landing at ABC for roughly 15 minutes. Before flying back, you can take in the panoramic views of the Alps and take some shots.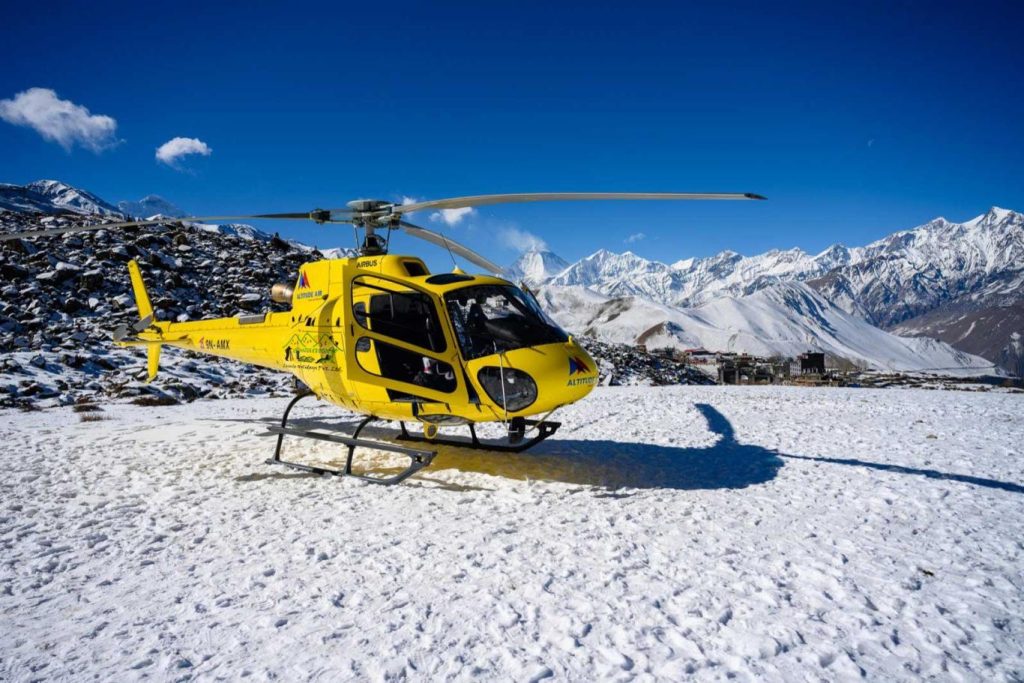 Recommended Read: Annapurna Base Camp Trek Distance
The main advantages of flying by helicopter are:
You can save time and energy by skipping the long and strenuous trek.
You can experience the thrill of flying over the world's highest peaks.
You can avoid the crowds and enjoy the solitude of ABC.
The main disadvantages of flying by helicopter are:
You need to pay a hefty price for the flight. The cost ranges from US$500 to US$2000 per person, depending on the number of passengers and the season.
You need to book your flight in advance and be flexible with your schedule. The flight is subject to weather conditions and availability.
You need to be prepared for possible altitude sickness. The sudden change in elevation can cause headaches, nausea, dizziness, and shortness of breath.
Recommended Read: Annapurna Base Camp Trek Cost
Tips for Reaching Annapurna Base Camp
Whichever option you choose to reach Annapurna Base Camp, here are some tips to make your trip more enjoyable and safe:
Plan your vacation ahead of time. Investigate the best time to visit ABC, reserve your accommodations and transportation in advance, pack your essentials, and obtain travel insurance.
Respect the culture and environment of your surroundings.
Follow the Annapurna Sanctuary National Park's rules and regulations, dress modestly, ask permission before photographing people or locations, don't litter or make noise, and don't hurt any plants or animals.
Drink plenty of water and eat healthy. Drink plenty of water and stay away from alcohol and coffee. Consume a well-balanced diet rich in carbohydrates, proteins, and fats. Drink only boiling or purified water and avoid eating raw or uncooked foods.
Take it easy and pay attention to your body. Don't push yourself too far or too quickly. Take regular pauses and Take some time to relax. If you have any altitude sickness symptoms, descend immediately and get medical attention.
 Trekking In Annapurna Base Camp Trek is a dream destination for many travelers who want to witness the beauty and majesty of the Himalayas. There are different ways to reach ABC, each with its own pros and cons. You can choose the option that suits your budget, time, and adventure level. No matter how you get there, you will surely have an unforgettable experience that will stay with you for a lifetime.