What is the Everest Base Camp Trek?
The Everest Base Camp Trek is one of the most popular treks in Nepal. It takes you to the base camp of Mount Everest, the world's highest mountain. The trek is challenging but it is also very rewarding. It is an opportunity to see some of the most beautiful scenery in Nepal and to meet some of the friendly local people.
The trek starts at Lukla, a small town in the Khumbu region of Nepal. From Lukla, you will trek for about 10 days to reach Everest Base Camp. The trek is not technical and does not require any special equipment or training. However, it is important to be prepared for the altitude and the cold weather.
You will need a permit to trek to Everest Base Camp. You can get this permit from the Nepalese government or from your tour operator. It is important to use a registered and experienced company when organizing your trip as they will be able to help you with all the necessary arrangements.
The best time to go on the Everest Base Camp Trek is between October and November when the weather is cooler and there are fewer crowds. This is also a good time to see the autumn foliage in Nepal.
Everest base camp trek in Spring
Have you ever wanted to explore the Himalayas? If so, an Everest Base Camp Trek in the spring is the perfect way to do it. This iconic trek has been a dream of adventurers for decades and now it's your turn. This blog post will explore what it takes to plan and take your own Everest Base Camp Trek in the spring. We'll cover everything from getting to the base camp, training for the trek, what items you should bring, and more! So if you're ready to take on this incredible journey, let's get started!
Why to trek Everest base camp in Spring
Assuming you have a basic level of fitness, any time of year is a good time to trek to Everest Base Camp. That said, springtime – late April, May and early June – is arguably the best time to go. Here's why:
1. Weather conditions are more stable than at other times of year.
In spring, you're less likely to experience the extreme weather conditions that can occur at other times of year, such as heavy snowfalls or high winds. This makes for a more pleasant and enjoyable trekking experience.
2. The days are longer.
During springtime in Nepal, the days are longer than they are at other times of year. This means you'll have more daylight hours available for trekking and enjoying the stunning views.
3. The trails are quieter.
While Everest Base Camp is never exactly deserted, it's generally quieter in springtime before the main trekking season gets underway in late May/early June. So if you want to avoid the crowds (and enjoy some peace and quiet), spring is the ideal time to go.
Everest Base Camp Trek in Autumn
Autumn is one of the most beautiful times of the year in Nepal, and with it comes an opportunity to explore some of the most stunning landscapes that this country has to offer. For those looking for a unique experience, an Everest Base Camp trek in Autumn with a registered and experienced trekking company is an amazing way to make the most of Nepal's autumn season. Find out what makes this trek so special, and why you should opt for an established operator when making your Himalayan dream come true!
Benefits of Trekking in Autumn
Nepal is one of the most popular trekking destinations in the world, and for good reason – the scenery is nothing short of incredible.
Trekking in Nepal is a great way to see some of the world's most beautiful mountains, including Mount Everest.
Autumn is one of the best times to go trekking in Nepal, as the weather is cooler and drier than in spring or summer.
A registered and experienced company like ours can ensure that your Nepal trekking experience is safe, enjoyable and memorable.
Contact us today to find out more about our autumn Everest Base Camp trek – it's an experience you'll never forget!
Everest base camp Trekking Itinerary
Assuming you would like a sample trekking itinerary for Everest base camp :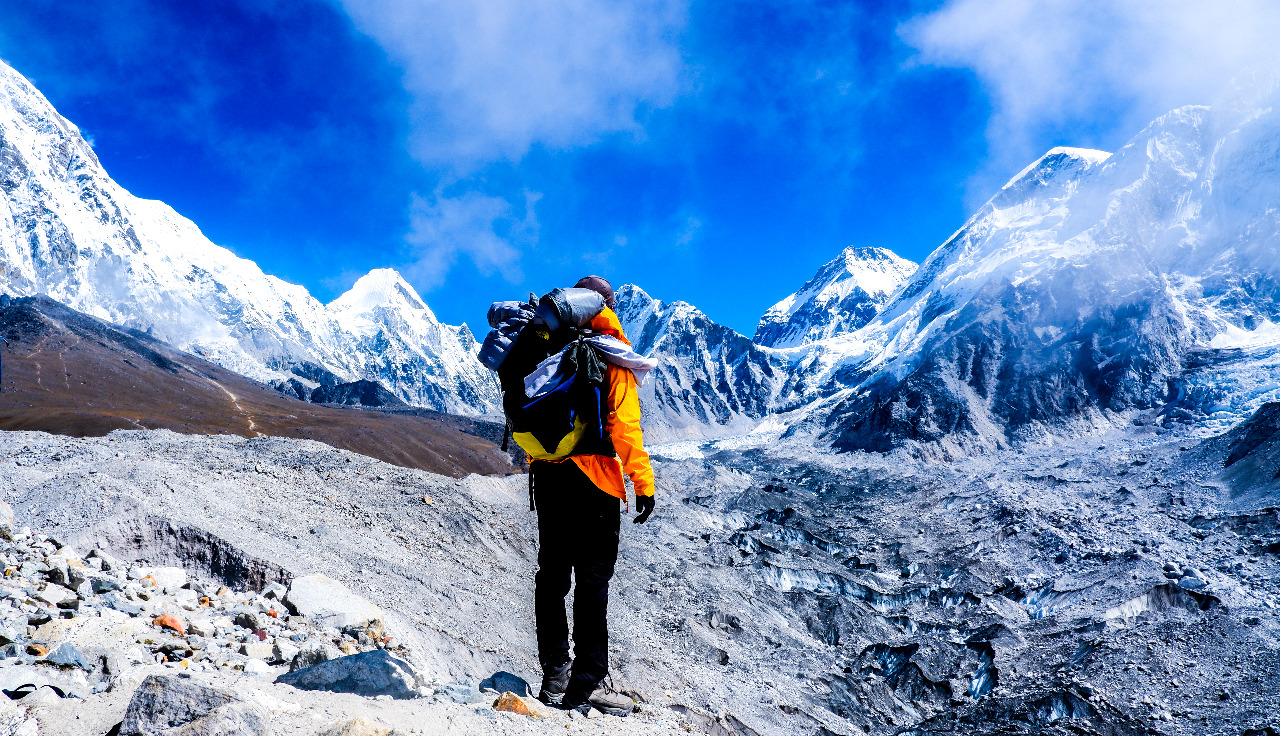 Day 1: Fly from Kathmandu to Lukla (2,860m/9,383ft), trek to Phakding (2,652m/8,700ft): 8km, 3-4 hours
Day 2: Phakding to Namche Bazaar (3,440m/11,283ft): 11.3km, 5-6 hours
Day 3: Namche Bazaar acclimatisation day: hike to Everest View Hotel (3,880m/12,730ft) return to Namche Bazaar – 6 hours round trip
Day 4: Namche Bazaar to Tengboche Monastery (3,860m/12,664ft): 10.5km, 5-6 hours
Day 5: Tengboche Monastery to Dingboche (4362m/14,300ft): 9.5km, 5 hours
Day 6: Dingboche acclimatisation day – hike up Nangkartshang Peak (5163m/16,949ft) return to Dingboche – 7-8 hours round trip
Day 7: Dingboche to Lobuche East (4147m/13596 ft): 6.5km 4 hours
Day 8: Lobuche East to Gorakshep and visit Everest base camp fly back to Kathmandu via Helicopter from Kalapather
How to make trek fun
Trekking to Everest base camp is an amazing experience, and there are ways to make it even more fun. Here are some tips:
1. Make sure you have the right gear. This includes comfortable shoes, clothes that will keep you warm, and a good backpack.
2. Start your trek with a positive attitude. Believe in yourself and that you can do it!
3. Take plenty of breaks along the way. Enjoy the views and take some time to rest your body.
4. Be social and meet new people along the way. Trekking is more fun when you share the experience with others.
5. document your journey with photos and videos. This will help you remember all the great moments of your trek for years to come!