Nepal is a beautiful country to explore nature and culture. There are various activities which are very popular among tourists. This blog will highlight the top 10 most adventurous things to do in Nepal. This list is generated on the basis of the 2019 tourist flow in Nepal. So, this blog will also help to choose activity for visit Nepal 2020.
While mountaineering, hiking, and trekking are the most looked up activities I´m sure the rest of them you had no clue you could find them here.
All in one place it is incredible!  Surely unlike anything you have ever seen before!
 Mountaineering, Trekking & Hiking
Nepal has 8 of the 14th highest peaks around the world with a Hight above 8000m and even Mount Everest is the highest peak of the world there are many others easier, cheaper and more enjoyable as well like Lhotse, Kanchenjunga, Cho-Oyu, Island Peak or Mera Peak also there are about 1310 peaks that have been found and about 326 are opened for the climbing, so the number of treks one can do are innumerable all of them with impressive views and different categories that one can choose from easy, hard, expedition, for few days or longer, any age and level that requires physical condition or not at all.
Take in mind that for any kind of trekking a Visa, permit, and insurance is necessary, certain equipment will also be needed such as hiking poles, sleeping bag, boots, jacket, sunglasses (depending the categories, season and many other factors you´ll need to review in detail all the things you should take)
Popular top 3 trekking routes in Nepal
White water Rafting / Kayaking / Canoeing
You´ll get to thumb from the snow-capped peaks of the Himalayas! Can you imagine that?
There are some of the most exciting rafting and kayaking in the world. No, every river it is fit for rafting and canoeing because of the velocity it gains due to the steep descent it has to take some time while flowing from such a height so the rivers in Nepal that flow calmer will provide pure adrenaline for the adventurous seekers.
The rivers fund in Nepal is for all level rafters, from hard, fast-flowing with frequent rapids, to easy ones that require no practice. There are also Kayak Clinics, great places where you can learn Kayak near Pokhara and Kathmandu. The river journey is so amazing it will take you to some of the most exciting views of nature, mountain, forested hills, rural places and sandy beaches where you´ll be spending your night. You can find everything from 1 to 12 days, and the best part of expeditions are cheaper than in other counties.
Popular top 3 rafting rivers in Nepal
 Jungle safari & Hunting
In Chitwan National the most popular attraction is the jungles safari, get adventurous there and head into the wildlife, you´ll get and the amazing feeling of adventure a, there you´ll find many species of wild animals, reptiles and if lucky get to see a tiger.
Popular top 3 Jungle safari tours in Nepal
Dhorpatan Hunting Reserve
Mountain bike tour in Himalaya  
Mountain bike is for everyone who loves sports, and as there are many challenging and very serious routes with amazing views of nature in Nepal, there are also easier routes depending on people's preferences.
 Rock Climbing and Canyoning
The sports require a lot of physical strength and you could do it in many different areas, mostly recommended in the Annapurna Region among the waterfalls overlooking at the forest, lots of dedication and concentration is needed to perform the activity.
 Bungee Jump & Swing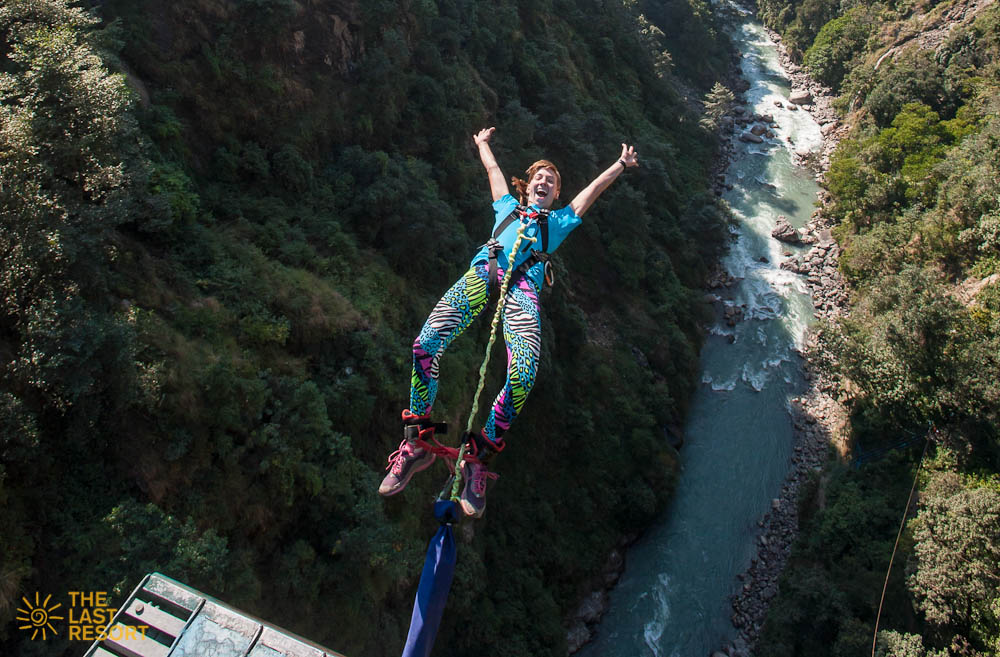 Bungee jumping another stimulating activity!! The higher one is situated near the Tibetan border around 3 hours away from Kathmandu at a height of 160m. Also, there is another Bungee spot in Pokhara where many other extreme activities can be performed.
As the swing from this bridge is the world highest the fall will definitely give you an adrenaline rush at a 150Km /hr over the Bhotekoski River!
Currently, you can do Bunjee from 3 locations in Nepal. Bhotekoshi, Pokhara, and Baglung.
 Zip Lining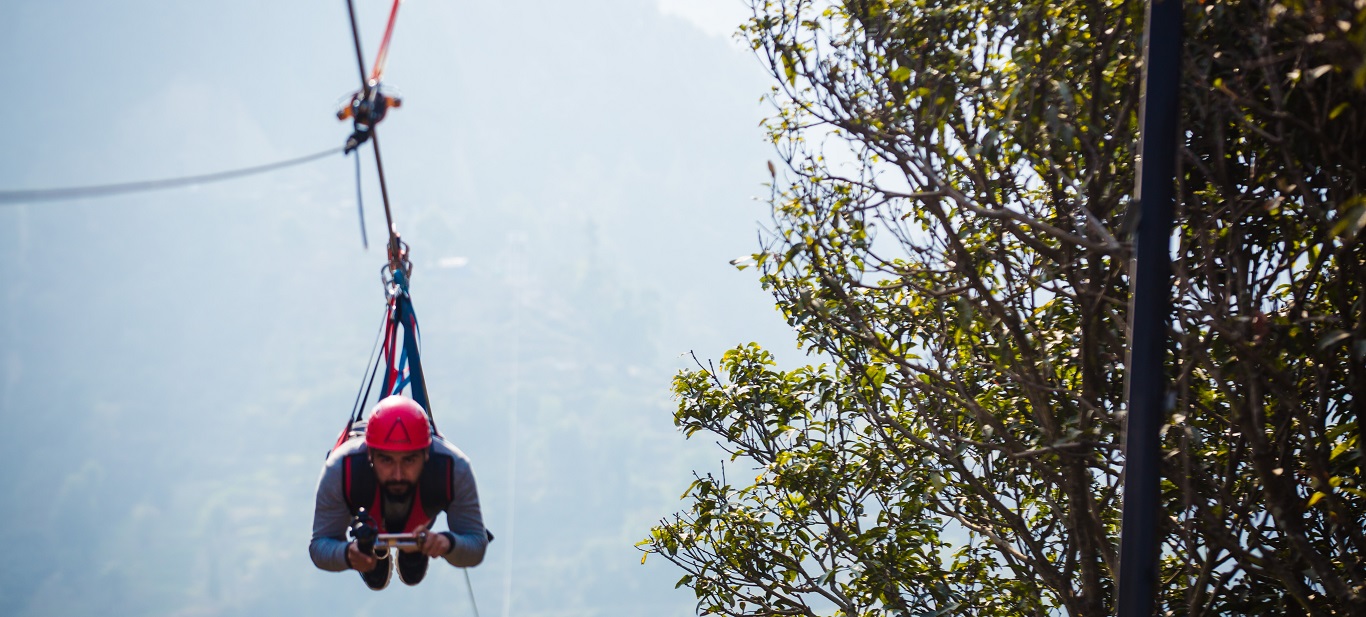 The longest, tallest and fastest is situated in Pokhara before it was used as a necessity to transport things using gravity from one hill to another. Afterward, people discovered the adrenaline rush one can have from It. You´ll reach a height of 2000 ft at a speed of 100 miles p/hr over the Annapurna and the Machapurchre range descending the hills. It's so extreme and exciting!! Also, in case you are afraid, there are smaller zip lines you can try.
In case you don't have enough time to climb the mountain Zipline might just be the right adventure for you!. Ziplining is available nearby Kathmandu in Dhulikhel too.
 Paragliding
Nepal is one of the Wold's most popular destinations for Paragliding as the views you´ll be getting is definitely one of the best they are magnificent and safe for takeoff and landing, there you´ll see a maximum number of paragliders flying next to you!
In a 30 minutes flight, you´ll be taken 3000m above the ground facing the Himalayan Ranges. The views of the ground of the lakes and the rivers are even more amazing than the alpine forest!.
Commercial Paragliding is available in various locations in Nepal like in Kathmandu, Pokhara, Dharan. Hire a pilot and fly from any places in Nepal which are not restricted by authorities option is also available.
 Mountain Flight /   Ultra Fight

Trekking and Hiking might not be for everyone, Therefore is always the option of flying over the maintains, that is just amazing and the views will be just the best ones ever. Everest mountain flight is the daily commercial flight from Kathmandu. You can take private helicopters as per your need and choice.
 Sky Diving
Can you imagine yourself taking a jump into a free fall from the highest ground point on earth a man can stay? The height of Mount Everest can be the extremes point to take the jump. Also, you can take the jump in Pokhara from a shorter height that will give you amazing views. Have you got what it takes to do that?
Tags:
10 Adventurous things you can do in Nepal
,
adventure in nepal
,
adventurous things to do in kathmandu
,
THE 10 BEST Adventurous Things to Do in Nepal
,
what are the possible adventurous activities for tourist in nepal