Nepal is a small South Asian country located between India and China. The country is known for its breathtaking natural beauty, including the Himalayan mountain range, which is home to Mount Everest, the world's highest peak. Nepal has a diverse population of ethnic groups and religions, as well as a rich cultural heritage and history. The country is well-known for its vibrant festivals, delectable cuisine, and welcoming hospitality, making it a popular tourist destination for visitors from all over the world. Nepal has a diverse range of attractions and experiences, ranging from trekking and mountaineering to cultural tours and wildlife safaris. Nepal is a must-see destination for anyone looking for a one-of-a-kind and unforgettable travel experience, thanks to its stunning natural landscapes and rich cultural heritage.
If you're looking for a one-of-a-kind and fulfilling travel experience, Nepal should be at the top of your list. Nepal has a rich cultural heritage and stunning natural beauty, nestled between the towering Himalayas and the lush jungles of the Terai region. The Kathmandu Valley, a UNESCO World Heritage Site, is located in the heart of Nepal and is home to some of the country's most important temples, palaces, and monuments. The valley is a cultural melting pot of Hindu and Buddhist traditions, where ancient traditions and modernity coexist harmoniously. The sounds of prayer wheels, temple bells, and street vendors fill the streets of Kathmandu, Bhaktapur, and Patan, providing a glimpse into the daily lives of Nepalese people.  Nepal is home to eight of the world's ten highest peaks, including Mount Everest, the world's highest mountain. The Himalayas provide some of the most breathtaking and difficult trekking experiences, with views of snow-capped peaks, glaciers, and valleys. The Annapurna Circuit, Everest Base Camp trek, and Langtang Valley trek are three of Nepal's most popular treks, drawing thousands of visitors each year. Aside from trekking, Nepal has a plethora of adventure activities such as white-water rafting, bungee jumping, paragliding, and mountain biking, making it an adrenaline junkie's paradise.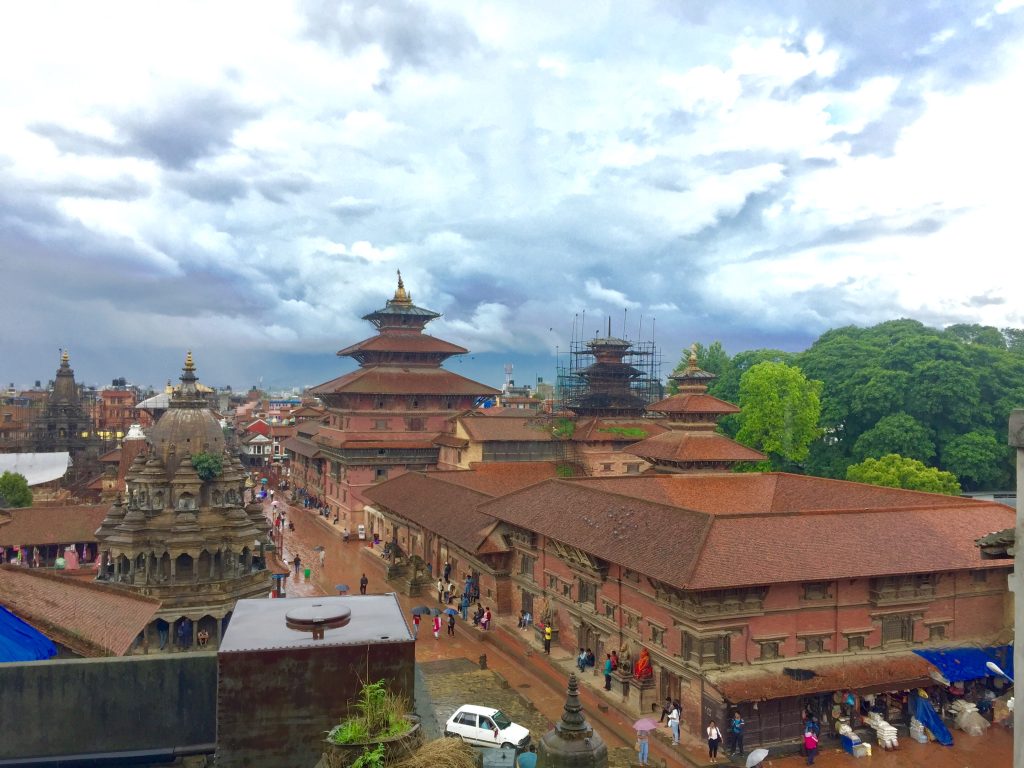 Nepal is also well-known for its wildlife reserves, which protect rare and endangered species like the Bengal tiger, one-horned rhinoceros, and Asian elephant. The most well-known wildlife reserves in Nepal are Chitwan National Park and Bardia National Park, which allow visitors to get up close and personal with these majestic creatures.  Nepalese cuisine is a distinct fusion of Indian, Tibetan, and Chinese flavours, with an emphasis on rice, lentils, and vegetables. In Nepal, the traditional dal bhat (rice, lentil soup, and vegetable curry) is a staple dish, and visitors can also enjoy momos (dumplings), thukpa (noodle soup), and chow mein (stir-fried noodles) in local eateries.
Nepal's festivals and celebrations are one of its distinguishing features. Throughout the year, Nepal celebrates a plethora of festivals, each with its own significance and cultural significance. The Dashain festival, which takes place for 15 days in October, is Nepal's most famous festival. During Dashain, Nepalese families gather to exchange gifts and enjoy traditional food and music. The Holi festival, also known as the festival of colours, is another important festival in Nepal. This festival is held in the spring, and participants smear each other with coloured powder and water to symbolise the triumph of good over evil. Nepal is also home to some of the world's most beautiful and historic temples. The Pashupatinath Temple in Kathmandu is one of the world's most important Hindu temples, dedicated to Lord Shiva. Another famous landmark in Nepal is the Swayambhunath Stupa, also known as the Monkey Temple. It is thought to be over 2,500 years old.
Highlights of Nepal
Nepal is rich in its cultural and traditional diversity
Nepal is famous for its highest peaks
Nepal is famous for High lands and mountains
Nepal is know for their bravery and loyalty all over the world
Lord Buddha was born in Nepal
Nepal is famous for its UNESCO world heritage site
Nepal is famous for wild life and Nature
Best time to Visit in Nepal
The best time to visit Nepal is determined by the activities and regions you wish to explore. In general, the best months to visit Nepal are spring and autumn, when the weather is mild and clear.
Spring lasts from March to May in Nepal, with warm days and cool nights. With rhododendrons in bloom throughout the hills, the weather is ideal for trekking and hiking.
Autumn in Nepal lasts from September to November and is the busiest season for tourists. This is the best time for trekking, climbing, and sightseeing because the weather is mild and dry, with clear skies.
The monsoon season in Nepal lasts from June to August, bringing heavy rains and landslides that make trekking and outdoor activities difficult. The monsoon season, on the other hand, brings lush greenery to the hills and valleys, making it an ideal time for photographers and nature enthusiasts.
Winter in Nepal lasts from December to February and can be bitterly cold, especially at higher elevations. It is, however, an excellent time for trekking at lower elevations, with clear and crisp skies and fewer crowds.
Famous places to visit in Nepal
Kathmandu is Nepal's capital city and is known for its rich cultural heritage. The Swayambhunath Stupa (also known as the Monkey Temple), the Pashupatinath Temple, and the Kathmandu Durbar Square are all UNESCO World Heritage Sites.
 Pokhara is a beautiful city on the shores of Lake Phewa. It serves as the entry point to the Annapurna trekking region and provides breathtaking views of the Himalayas, including the Machhapuchhre (Fishtail) Mountain.
 Chitwan National Park is one of the best places in Nepal to see wildlife. Bengal tigers, one-horned rhinoceroses, and Asian elephants live there, and visitors can go on jungle safaris, bird watching tours, and elephant rides.
One of the most popular activities for visitors to Nepal is trekking to Everest Base Camp. The trek takes you through Nepal's stunning Khumbu region and provides breathtaking views of the world's highest mountain.
The birthplace of Lord Buddha, Lumbini is a UNESCO World Heritage Site. It is home to several monasteries, temples, and ancient ruins, making it a popular pilgrimage destination for Buddhists worldwide.
Do I need a visa to visit Nepal?
Yes, visitors to Nepal must obtain a visa in order to enter the country. Tourists can obtain a visa upon arrival at Kathmandu's Tribhuvan International Airport or at border crossings with India and Tibet. A single-entry visa is good for 15, 30, or 90 days, depending on the length of stay requested, and can be extended for a fee. Visitors must have a valid passport, a return or onward ticket, and enough money to cover their expenses while in the country. Before travelling to Nepal, it is best to check the most recent visa requirements and fees, as they can change at any time.
Is it Safe to Travel in Nepal?
Nepal is generally a safe country to visit, but visitors should exercise caution and be aware of their surroundings, particularly when travelling alone or at night. Petty crimes like pickpocketing and theft can occur in crowded tourist areas, so keep valuables safe and avoid carrying large amounts of cash. Visitors should also be wary of political demonstrations or rallies, which can turn violent at times. It is advised to stay up to date on the latest developments in the country and to heed the advice of local authorities. Medical facilities may be limited in remote areas, so visitors should make sure they have adequate travel insurance that covers emergency medical evacuation.
Which currency is used in Nepal?
Nepal's currency is the Nepalese rupee (NPR). Foreign currency can be exchanged for rupees at banks or authorised currency exchange centres, which are widely available in major cities and tourist areas. ATMs are also widely available, but it is best to carry cash in remote areas where ATM services may be unavailable. Visitors should be aware that some establishments may refuse to accept credit or debit cards, so bring enough cash for daily expenses. It's also a good idea to have small denominations of rupees on hand because some vendors may not have change for larger bills.
How is the accommodation in Nepal for Tourists?
Visitors to Nepal have a wide range of accommodation options, from budget guesthouses to luxury hotels and resorts. Budget accommodations, such as hostels and guesthouses, are plentiful in major tourist destinations such as Kathmandu, Pokhara, and Chitwan. In these areas, there are also mid-range hotels and resorts that provide comfortable rooms with basic amenities like air conditioning and Wi-Fi. Accommodation options in more remote areas, such as trekking routes, may be more basic, such as teahouses and mountain lodges. These frequently have shared rooms and shared bathrooms, but they offer a unique opportunity to experience local culture and meet other travellers. High-end hotels and resorts with top-notch facilities and services are available in major cities and tourist areas for those seeking luxury accommodations.
How will I go from one place to another in Nepal?
Visitors can travel within Nepal using a variety of modes of transportation. Taxis, buses, and rickshaws are available for use in major cities such as Kathmandu and Pokhara. Visitors should be aware, however, that traffic in these cities can be congested and chaotic, so allow for extra travel time. Hiring a private car or jeep is a popular option for those looking to explore more remote areas or go on trekking adventures. Long-distance travel is also possible via shared minivans and buses, though they can be crowded and uncomfortable. Visitors can rent bicycles or motorbikes for shorter trips. River rafting and mountain biking tours are available for those seeking a more adventurous mode of transportation.
Can I rent Vehicles in Nepal?
Yes, visitors to Nepal can rent vehicles such as cars, motorcycles, and bicycles. In major cities and tourist areas, rental agencies are available, and visitors can select from a variety of vehicles to suit their needs and preferences. Visitors should be aware, however, that driving in Nepal can be difficult, particularly in major cities where traffic can be congested and chaotic. Hiring a local driver or guide who is familiar with the roads and driving conditions is recommended. Before entering Nepal, visitors must have a valid driving licence from their home country and obtain an International Driving Permit (IDP). Hiring a jeep or other off-road vehicle is a popular option for those looking to go on trekking adventures.
In fact we also provide the renting facilities for vehicles if you wanna rent the vehicle you can check out the below links:
What are the Famous Treks in Nepal?
Nepal is well-known for its beautiful trekking routes, many of which provide breathtaking views of the Himalayan mountains as well as unique opportunities to experience local culture and traditions. The Everest Base Camp trek is one of Nepal's most famous treks, taking trekkers through picturesque villages and past stunning landscapes, culminating in breathtaking views of Mount Everest. Another popular route is the Annapurna Circuit trek, which offers a diverse range of landscapes and views of the Annapurna mountain range. Other popular treks include the Langtang Valley trek, which is known for its beautiful alpine scenery and rich culture, and the Manaslu Circuit trek, which is a more difficult but rewarding trek through remote Himalayan areas. The Poon is a shorter trek for those looking for a shorter trek.
Some of the pictures of Nepal which might make you interest to visit.