How to book Hiace in Nepal? please go through this blog to know complete process about hiace rental process in Nepal.
What is Hi-ace?
The HiAce (pronounced as "High Ace") is a light commercial van produced by the Japanese automobile manufacturer Toyota. The max capacity of this van is 15 pax including driver. Currently there are two types of Hi-ace are available in Nepal. One is Toyata hiace and another is Nissan hiace. Hiace is categorized as luxurious vehicle for group who want to travel in asphalt roads.
Where can I travel in Hi-ace?
You can travel all around Nepal where the roads are asphalt or is in very good condition. If you are planning to travel in off roads I suggest you to choose 4W vehicles like Scorpio and sumo.
How to book hiace in Nepal?
If you are already in Nepal and want to book or rent hi-ace visit nearest travel agency or transport company. They can arrange vehicle for you. If you are not in Nepal or do not want to visit agents you can directly contact vehicle owner by clicking here book hiace van in Nepal.
Is it good to contact vehicle owner or vehicle agents for renting vehicles in Nepal?
If you do not know any vehicle owner you have no choice so you must contact vehicle rental agents. They will provide you vehicle on commission basis. But if you know vehicles owners they can provide you the cheaper rates than agents.
Adventure vision treks is vehicle rental agency or owner company?
Adventure vision treks and travels owns its own vehicle and provides rental facility through online as well through various rental agencies in Kathmandu Nepal. As we are vehicle owner company we have B2B contracts with others owners so we can provide vehicle hiring and booking in Nepal at cheaper rates than travel agencies. As already I said we have B2B contracts, If our vehicle is not available in specified date then also we can provide other owners vehicles on same rate as our vehicle.
How much should I pay to book or rent vehicle?
For the confirmation of booking we charge 20% of total cost for booking vehicle. The booking charge is 100% refundable (bank payment commission 4% is deducted) if you cancel your trip before 10 days. And 50% is refundable before 1 day.
How to confirm vehicle booking?
First send us inquiry about your pick up and drop off location, we will provide you the rate of vehicle booking or rental on your date. Then you should go to our payment processing page by clicking here or link provided on email. Then you will get confirmation email of booking.
How to cancel or change the date of my booking?
Just send us one email. All thing is done. We will process your request as soon as we receive your email. The refund process can be held up to 48 hours by bank (not by us).
I am traveling with another trekking agency, can I book vehicle with you?
Yes, off course you can book vehicle in Nepal with us, traveling agency does not matter for that.
You will provide driver with rental vehicle?
Yes, all the cost provided by us are included with driver charge.
Can I book only vehicle not driver?
Yes, you can book but some terms and conditions should be fulfilled before taking vehicles from us. You must provide proof of valid driving license which is valid in Nepal. You must keep **some security deposit which will be refunded when you return our vehicles.
Which vehicle is perfect for what kind of group?
If you want single vehicle for group we suggest following. But if you prefer more than 1 vehicle , you can book or rent any vehicle.
1 – 4 : Car
3-7 : Scorpio
5 – 14: Hiace
14+: Bus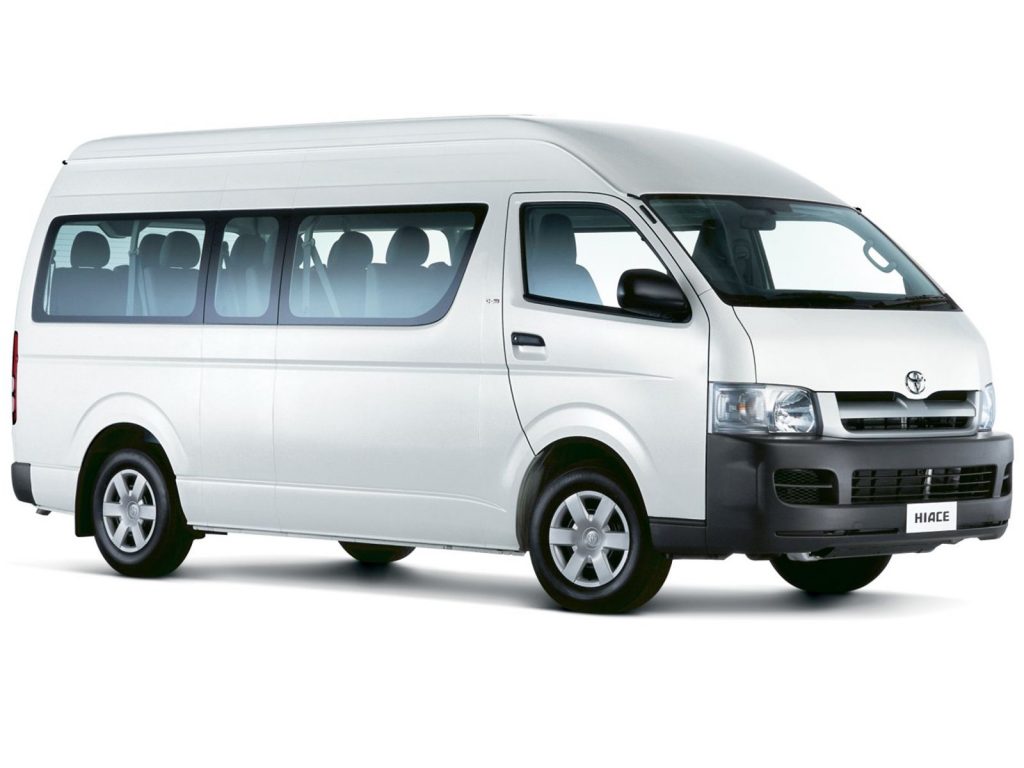 Tags:
hiace booking in Nepal
,
hiace rental in Nepal
,
Hire a hiace in Nepal
,
vehicle booking in nepal
,
vehicle rental in nepal