More than a year ago, in December 2016, I backpacked through what I consider one of the most accessible trek routes in Nepal – Poon Hill trekking. My friend from college flew in from India specifically for the trek. I am going to write why I choose Poon Hill and why this was my best trek experience? I was psyched. Despite having lived near Pokhara for 22 years, I had never ventured around, and definitely not as far as the Annapurna Conservation Area (ACA). Moreover, trekking which was considered a foreigners' activity till only a few years ago had been slowly growing among the Nepali youth and I was glad that I was finally partaking in it. So after receiving a trekking permit for my friend from Nepal Tourism Board (NTB) in Kathmandu, off we went on our little adventure not knowing what to anticipate, for it was the first time any of us was trekking for more than a day, 4 days and 3 nights, to be more precise.  
The Route
Day 1: Pokhara – Baglung Buspark – Nayapul –Tikhedhunga – Ulleri
Day 2: Ulleri – Ghorepani
Day 3: Ghorepani – Poon Hill – Tadapani – Ghandruk
Day 4: Ghandruk –Pokhara
The Trail and the people
We started our trek to Ghorepani Poon Hill from Nayapul, which takes approximately an hour for a local bus to reach from Baglung Buspark. I found the first day of the trek to be the hardest, owing probably to the hundreds of steps that we had to climb or probably because we were still getting accustomed to the idea that we had to continuously walk for 6-8 hours each day. But I wasn't complaining. We passed through the most beautiful landscapes, always with mountains in the backdrop and the realization that with each step we were getting closer to them was a great solace that made the ascent easier.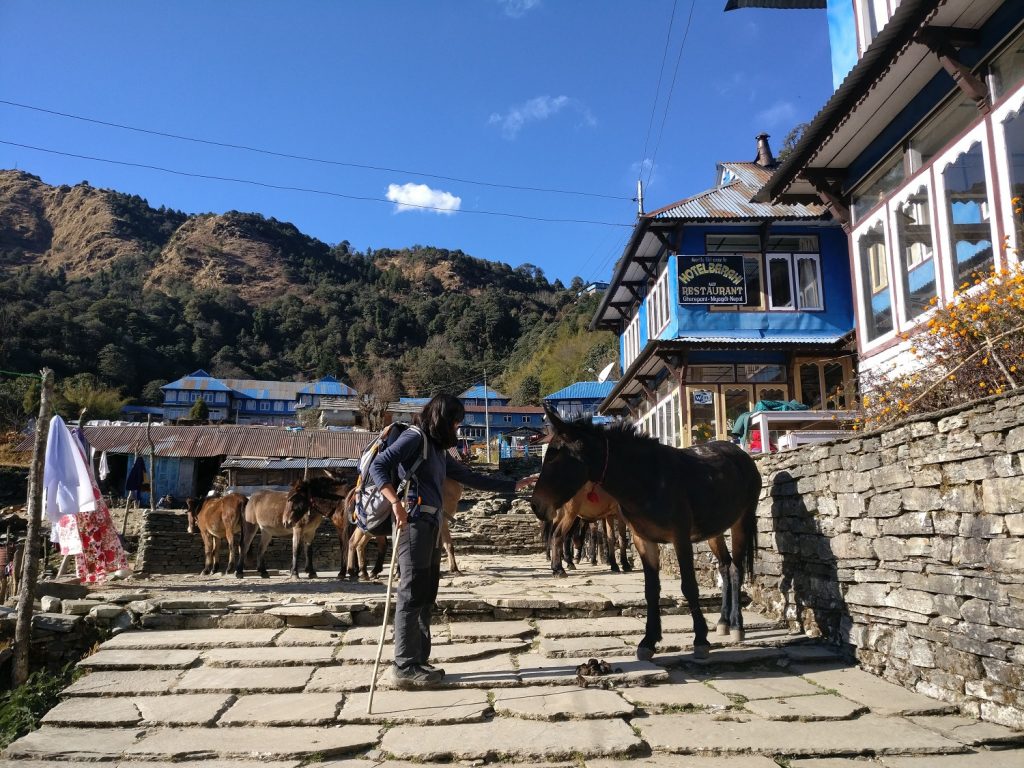 What proved equally wonderful were the people we met along the trail. I am not exaggerating when I say you meet the world up there. We met a Chinese woman who didn't speak English at all but was traveling all by herself through a remote part in a foreign country; it was inspiring. We were dumbfounded to meet a group of teenagers from Australia who must not have been more than 16 or 17 but were traveling halfway across the world. Our parents didn't even let us alone on a one-hour bus ride when we were 16. We met a couple from the Netherlands who was 65 years old but had undertaken the challenge to reach all the way to Annapurna Base Camp by trekking; we were awed.
Moreover, there is a sense of an unspoken camaraderie between travelers in the mountains. While people are nonchalant about each other's existence in the cities, up there they greet each passing fellow travelers with 'namaste' and 'hello', hence making the atmosphere genial. It was also an added advantage that being a Nepal I could converse with the tourist guides as well. Conversations with the tourist guides made up for our lack of research regarding the trek and its routes. Through them we figured that December wasn't a good time if we wanted to watch rhododendron bloom which apparently is a sight not to be missed; spring would have been after. We also figured that many people trek the other way round – they start from Ghandruk and end at Nayapul.
The Company
What makes any trip memorable and fun is the company one has and, I had the best travel partner. I was a tad apprehensive about the walking the trek required; for she lived in the plains of India and wasn't as accustomed to the hills and walking as I was. Surprisingly, she walked really well and we managed to have a really good time; we sang Nepali songs, goofed around and even managed to make it to the Poon Hill point twice; except for that one time when she ditched me for this mildly interesting guy we met who had majored in Religion Studies and had some fascinating stories to tell abound the kind of religious people follow around the globe.
Frugal travelers
Despite all the romanticizing, travel is actually a series of mishaps that you have to overcome which later become the best of memories. Our mishap was that my friend couldn't withdraw money from her Indian ATM, so we had to survive on the cash I was carrying only for myself. However, the best part about Poon Hill trek is that you can totally travel it the most frugal way possible and still have a good time. We munched on Glucose Biscuits, which cost around NPR 10 each, for snacks and ate cup noodles for breakfast. Since we didn't mind rooms without attached bathroom, we got accommodation for as cheap as NPR 150 per night. We also carried bottles by ourselves and filled the same water that the locals consumed. Nevertheless, we made sure that we had proper lunch, because walking 6-8 hours require energy and 'Nepali Thali' is a holistic meal, which easily costs NPR 350-550 in the mountains.
Rebels and empowerment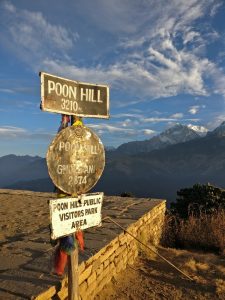 Poon hill was my first trek experience, and in no way, it was the easiest. My mother was against the trip altogether. She was horrified at the idea of only two of us traveling without any male escort. It was not only her. Many people we talked to during the trip were surprised when we told them that it was only the two of us trekking. Some even went on to suggest that we ought to have at least brought our boyfriends on the trek. The reactions were ludicrous. It was considered okay for women from foreign countries to be traveling alone, but it was no less than a novelty for women from their own country to be doing the same thing.
So trekking, a supposed leisure activity, inadvertently became a symbol of empowerment for us. It felt like we were crossing boundaries that were set for us by the society and were breaking gender norms. By the end of the trek, we vowed to each other that we would do more traveling, trekking and exploring.
The Final View
The final view, view from Poon Hill, was worth every hassle, every trouble, every a backache, every foot-ache.  We watched both sunrise and sunset at Poon Hill and they were the sights to behold. My friend ventured around and found out that you could see more than seven Mountain peaks from there including Macchhapuchhre, Gangapurna, Hiuchuli, Nilgiri, Annapurna, and Dhaulagiri. But I couldn't care less. I found my peace there, an inexplicable tranquility, as if nothing else mattered and that that very moment was what I should aspire for in life thereafter; it was like meditation.
So even now if anybody asks me where they should go for a trek, I tell them Poon Hill tops the list. It is one of the cheapest, most accessible, easiest trek routes in Nepal but equally exhilarating, equally satisfying as the 10-15 days trek to other areas.
What Next?
I enjoyed this trek very much. The feeling after this trek was awesome. As I explained above the trip was memorable which gives me the energy to trek more in the future. I am thinking to trek Mt Everest Base camp. I want to be on the top of the world and want to watch the universe from there.
Tags:
annapurna
,
Ghorepani Poon Hill Trekking
,
nepal
,
Poon Hill
,
Poon hill trek
,
Poon Hill Trek Blog
,
Poon Hill Trekking experience
,
trekking
,
Trekking in Ghorepani Poon Hill
,
Trekking in Nepal